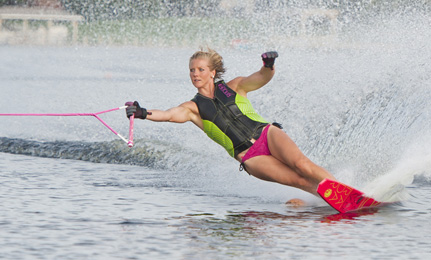 Women's Slalom WaterSkis
The right womenís water ski can separate a pretender from a water sport contender. In the slalom, thereís usually little room for error. An inferior slalom ski can remove the buffer that you may have had available, and in fact, may even disadvantage you. Thatís why itís imperative to have a slalom ski that is not only designed for your physical traits, but for your riding style, too.



At Parafunalia, we carry enough slalom ski options to cater to every ilk of rider. A water ski will greatly influence the amount of enjoyment you will extract from your time slaloming. If youíre wearing an inferior ski, youíll quickly tire of moving sluggishly through the water. Put a specialized slalom ski from our collection on and watch the excitement build as your turning becomes crisper, control becomes more pronounced and speeds vastly increase.

Our slalom skis for women come in a variety of sizes for different heights, weights and levels of experience. Pick the one that suits you best and prepare to debut your brand new board on the water.